Hey Fellow Entrepreneur,
Business planning does not need to be complicated! Actually, the more concise and simple your plan is the better and more effective it is.
In working with hundreds of businesses we have found that success leaves clues when it comes to formulating winning business plans. In this dynamic process we will help you laser in on what must be in your plan to help you grow your business.
"Simple, clear purpose and principles give rise to complex and intelligent behavior. Complex rules and regulations give rise to simple and stupid behavior."
– Dee Hock, CEO Emeritus VISA International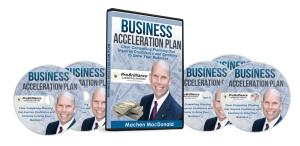 The Most Simple and Yet Most Effective Business Planning Process Available!
This online coaching will help you grow your business by bringing forth your best strategic thinking and keep you focused on key business building activities throughout the year.
If you are serious about diving in deeper to formulate and refine your own Business Acceleration Plan, you need look no further. We have created this resource to serve as your strategic coach to walk you through formulating a meaningful and relevant operational business plan.
If you are stuck working in your business and not taking time to work on your business you are only digging a deeper rut of which you may never get out! Don't wait any longer. Learn how to get your life back and start enjoying your work again, while taking your business to that next level.
Normally this online program retails for $497.00 which is a fantastic value. Think about it, acquiring just a few new clients or customers can easily pay for the program. However, as my way of giving back, I wanted to take the thinking out of it and provide this to you for basically what amounts to our cost for administration of the program.
You can have immediate access to:
8 Step Online eCourse that walks you step-by-step through how to create your very own plan
Precise videos explaining each of the 5 key elements of the Business Acceleration Plan
Presentation speaker notes to review as needed
Weekly motivational emails to keep you inspired, engaged and on track to grow your business
Worksheets and templates that guide you to capture the right information
2 Exercises to support you in getting clear on your unique value offering
4 Step process to identify your ideal client and how to more effectively market to them
A special 5 minute process no one talks about that all effective business owners do on a daily bases to achieve success in their business
And I'll include a Bonus! Having coached hundreds of business owners and sales professionals, I've seen first hand the best marketing tactics that get results. I've compiled a list of those 88 Tactful Marketing Tactics. It's yours for signing up today!
The 88 Tactful Marketing Tactics will help you jump start your Business Acceleration Plan right away and grow your business a lot quicker than anything else you could do. This alone is worth ten times the investment!
You can easily pay for this one time $497 investment by acquiring just one new client into your business. The great news is you will continue to benefit from your Business Acceleration Plan in the months and years ahead.
"When you are clear, what you want will show up, and only to the extent you are clear."
~Janet Atwood
If you want more clarity, a greater sense of purpose and direction for growing your business, this is a must have resource in your business tool box.
To Your Continued Success!
Coach Machen MacDonald
530-273-8000
P.S. How will acquiring 6 or more new clients every month, on top of what you are already doing, increase your business and improve your life? It's easier than you think!
Our 60 Day 100% Money Back Guarantee
If for any reason you feel this program hasn't helped increase your clarity and confidence to grow your business, we will refund your entire investment of this program.